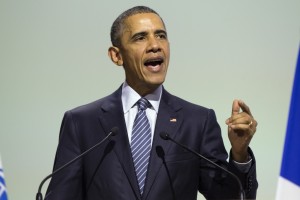 Tiden rinner ut!
Obama sätter tonen bland stats- och regeringschefer i Paris måndag 30 november 2015:
"For I believe, in the words of Dr. Martin Luther King, Jr., that there is such a thing as being too late. And when it comes to climate change, that hour is almost upon us!"
Fritt översatt: Kära kollegor! Åk hem efter det här mötet och lyft den här frågan överst på agendan! De tendenser vi ser ute i världen just nu såsom inbördeskriget i Syrien, de stora flyktingströmmarna, allt våldsammare och mer frekventa extrema väder i form av orkaner, skyfall, utbredd torka etc kan alla kopplas till klimatfrågan. OCH än så länge har den globala uppvärmningen "bara" nått 1 grad. Vi är ju på väg mot 3-4 grader!